Phase I: Business Services
The following is the updated business services organizational structure.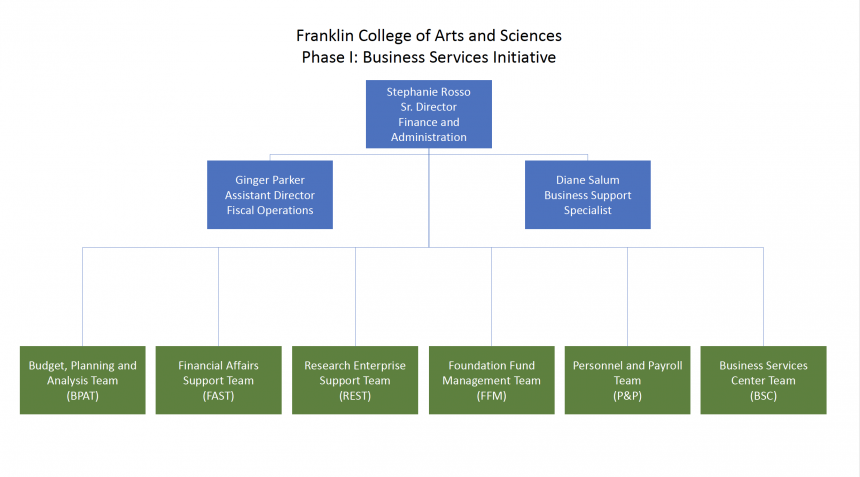 Budget, Planning, and Analysis Team (BPAT)

Performs all ongoing functional responsibilities including the annual Budget Planning and Salary Setting (BPSS) process and ongoing functional responsibilities including budget oversight, commitment management, and reporting on state funds in compliance with all college, university, and state regulations and requirements.

 
Financial Affairs Support Team (FAST)

Provides effective fiscal management and stewardship of the Franklin College of Arts and Sciences financial resources. In partnership with the college and departmental leadership, FAST manages funds; works to evaluate, develop, and improve business processes; and makes financial decisions that are strategic, compliant, and timely.
Research Enterprise Support Team (REST)

Provides pre- and post-award contracts and grants support for the principal investigators in the Franklin College of Arts and Sciences. This team serves as the liaisons between the Franklin College Business Services Office (FBSO) and UGA's Sponsored Projects Administration (SPA). The REST team will also manage other faculty-specific funds such as start-up, IDC return, Foundation funds, etc.  

 
Foundation Fund Management Team (FFM)

Performs all foundation accounting including monitoring and projecting all foundation account spending for accuracy and compliance with both UGA and UGA Foundation policy and donor fund agreements. This team will serve as the contact between the Franklin College Business Office (FCBO) and the UGA Foundation (UGAF) supporting all gift-related expenditure, budget, and fund-related transactions to ensure good stewardship of donor funding.

 
Personnel and Payroll Team (P&P)

Provides operational support to units in the areas of personnel and payroll by processing actions using appropriate systems such as UGAJobs and USGConnect. Coordinates the entry and validation of employee changes including position creation and management, onboarding (transition from UGAJobs to HCM), and ensuring that employees are compensated for the correct amount on the correct chart string on a timely basis. The P&P team will be available for policy consultation and will work closely with Franklin HR and Faculty Affairs.

 
Business Services Center Team (BSC)

Process financial transactions including travel authorizations and reimbursements, expense reports, UGAMart procurement requisitions, invoice payments, procurement card reconciliations, payment requests, journal vouchers, and cash deposits in an efficient and accurate manner.