Richard B. Russell Building Special Collections Libraries Auditorium
"Climate Change and Biological Conservation in Georgia: John Abbot and the Pearly Eye Butterflies of Athens-Clarke County"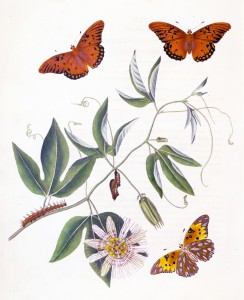 Porter will discuss the global phenomenon of anthropogenic climate change in the context of conservation in Georgia and Athens-Clarke County. He will announce a major new discovery of the presence of three closely-related species of Pearly-Eye butterflies with the Tallassee Forest. Porter will present evidence that this currently occurs nowhere else in the world.
Using paintings by John Abbott, Porter will show that more than 100 years before the scientific description of these species, the artist was clearly aware of the slight variations that exist between them. 
Porter's talk is in conjunction with the exhibit "John Abbot, Early Georgia's Naturalist Artist," which includes rare watercolor illustrations from the Hargrett Rare Book and Manuscript collections, The exhibit celebrates the 20th anniversary of the James W. Woodruff, Sr. Center for the Natural History of Georgia and will be on view through August.
The Woodruff Center for the Natural History of Georgia collects and preserves for scholarly research historical resources that reflect and document the natural history of the State of Georgia. The Center includes the James W. Woodruff, Sr. Natural History of the Chattahoochee Valley Collection.